21 July 2019
Introducing Streamflow - Video Processing & Delivery Platform
4 minutes read
Written by Michal Pecanek
But...didn't you guys launch a stand-alone streaming platform last year already? Yes, we did. And it got so popular with our existing and new clients that we had to take it to another level.
Our Live Streaming CDN, as we used to call it, eventually became an end-to-end live streaming and VOD platform which allows you to control your complete workflow from signal ingest to a top-notch HTML5 player. Live Streaming CDN has quickly outgrown itself and our potential clients were pleasantly surprised when they found out that we can do much more than the name promised.
The improvement and expansion of our streaming services simply had to be reflected in the product's name.
Welcome Streamflow - an end-to-end video processing and delivery platform.
Don't compromise with multi-vendor streaming solutions
Traditional streaming services integrate third-party CDN providers into their solutions. We went the other way around and built Streamflow upon our own CDN infrastructure and years of experience. This results in unparalleled streaming solutions where you directly control all steps in your workflow - something that you can only dream about with multi-vendor solutions.
Using our own CDN also has another benefit - the cost. Streaming platforms definitely have great deals with third-party CDNs. However, content delivery is the biggest expense in the whole streaming workflow which ultimately boils down to the lack of pricing flexibility for outsourced delivery. Not in our case.
We offer an all-in-one solution that handles the workflow. All you need is a signal for us to ingest, be it RTMP or HTTP-based formats. Then sit back and let us take care of making your viewers happy. No matter where they are, no matter which device they use, we always deliver a high-quality experience to your audience.

Never-ending Network Expansion & Scalability
CDN77 network capacity has rapid growth even after 7 years of establishing the company. We're currently at more than 14Tbps. This means a 100% YoY increase which was hugely impacted by steadily growing demand for our live streaming and VOD services.
Constantly opening new Points of Presence is another way of expanding the network. And by stepping into a new datacenter, we don't mean adding one server into production for the sake of inflating the number of PoPs.
We focus on real usability - fewer PoPs with high capacity and performance. This means racks full of servers with at least 4 x 10G uplink powered by Tier-1 carriers and top-class peering agreements.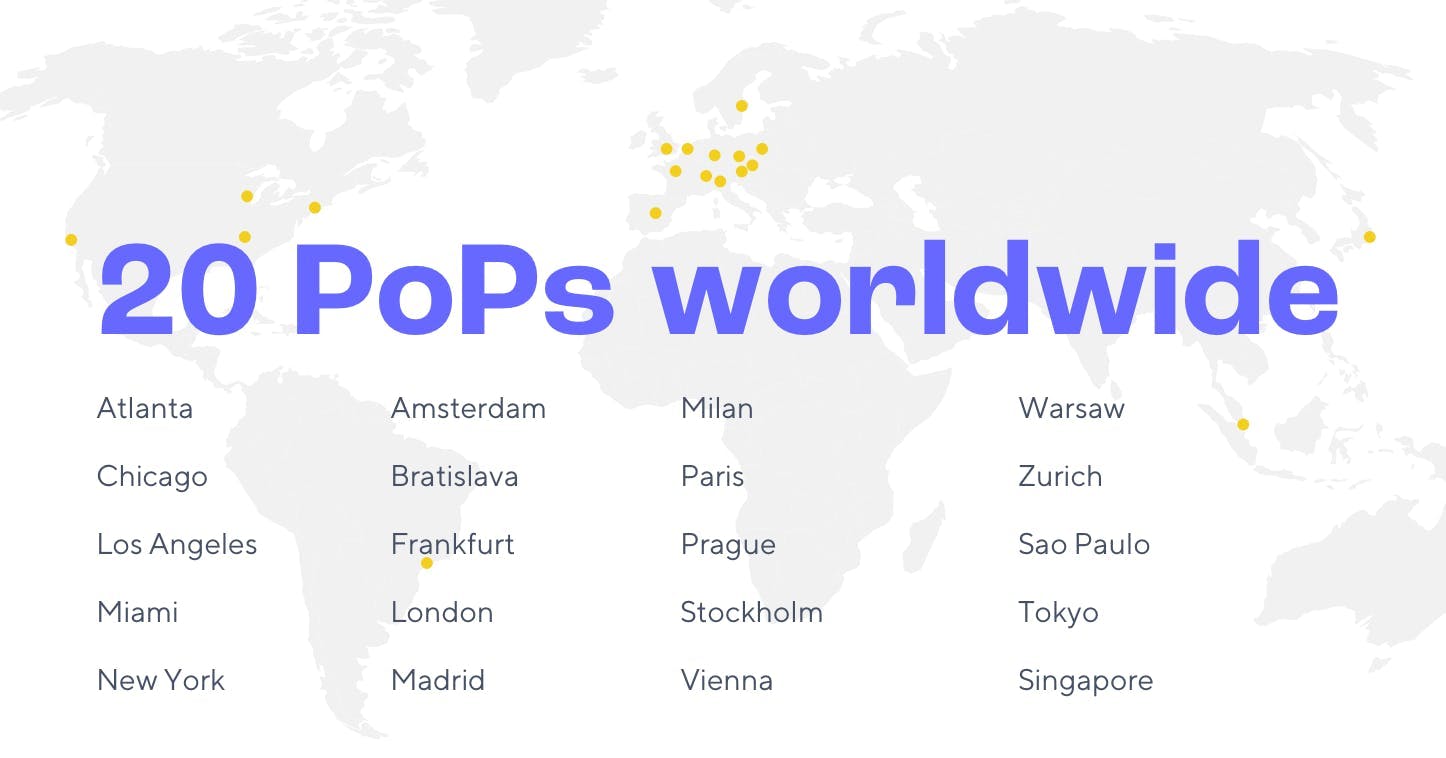 Last but not least, some CDN77 clients experience more than 100 PB of monthly traffic. We got your back when it comes to scaling your business. High-demand events, shows and unexpected traffic peaks are our daily bread-and-butter which you'll start enjoying too.
Expert Resources Dedicated to Video
With a new website comes a new blog, knowledge base and FAQ. Being in the streaming market for many years already, we've realized that there's a huge demand for comprehensible information. We have the "scrolling through a streaming solution website for 5 minutes and not knowing what they do and talk about" problem on our mind. The curse of many B2B companies in general.
It only makes sense to start publishing valuable information and guides separately from our CDN product. We pay attention to questions and struggles of our clients and that's how we want to tackle the industry confusion problem. We're kicking this off with explaining that there's not just one type of latency in streaming and how exactly CDNs benefit live streaming.
Let us know which topics you're interested in and would like to learn more about. The content is written by our streaming experts across multiple teams including our support engineers. They're the ones being available 24/7 for you, ready to help in real-time.
Having an all-in-one solution also means that you'll get your questions and problems solved much faster than you're used to from other streaming services.
How to Get Started
Get in touch with us to discuss how we can help you cut your costs and worries. We'll set up a tailored free trial and work on a custom quote with you.